Dr. Reimer Hoffmann
is a specialist for hand surgery and peripheral nerve surgery
Deprecated
: preg_replace(): The /e modifier is deprecated, use preg_replace_callback instead in
/www/htdocs/w008cd63/redaxo/include/classes/class.textile.inc.php
on line
768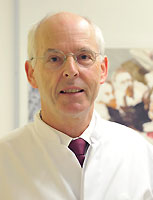 Dr. med. Reimer Hoffmann
Dr. Hoffmann has designed instruments for the endoscopic cubital tunnel release in close cooperation with KARL STORZ Germany, one of the world's leading endoscope manufacturers.
Dr. Hoffmann is a member of the German, British and Indian Society for Surgery of the Hand. He is a founding member of the NerveClub, a congregation of leading peripheral nerve surgeons. He lectures at conferences and workshops on endoscopic techniques in hand surgery and peripheral nerve surgery and has published many journal articles, books and book chapters on this subject. go to meetings and publications
Deprecated
: preg_replace(): The /e modifier is deprecated, use preg_replace_callback instead in
/www/htdocs/w008cd63/redaxo/include/classes/class.textile.inc.php
on line
768
Contact me
If you are suffering from Cubital Tunnel Syndrome you may contact Dr. Hoffmann through this website and receive more information.
Videos
Deprecated
: preg_replace(): The /e modifier is deprecated, use preg_replace_callback instead in
/www/htdocs/w008cd63/redaxo/include/classes/class.textile.inc.php
on line
768
Enlarge this Video
Downloads
Deprecated
: preg_replace(): The /e modifier is deprecated, use preg_replace_callback instead in
/www/htdocs/w008cd63/redaxo/include/classes/class.textile.inc.php
on line
768
Get more information on the following site more…